Grand Bazaar of Istanbul: The Largest and Oldest Shopping Center in the World
Grand Bazaar, or "Kapalı Çarşı" in Turkish, is one of the most magnificent and largest bazaars in the globe with more than 2500 shops that are specialized in crafts like jewelry, textiles, antiques, carpets, kilims, household items and many more. The Bazaar has a unique architectural texture that consists of more than 60 interior streets accompanied by characteristic Ottoman motifs and is located on a 30.700 square meter area with 22 entrances.
Grand Bazaar A Centuries Old Commercial Center:
After his successful campaign to capture Istanbul in 1453, Mehmet the Conqueror had plans to improve Istanbul commercially and in 1455, he ordered the construction of the Grand Bazaar on the site of an old market.  Its maze-like construction completed in 1461. Since then, Grand Bazaar kept on growing with many new shops, vendors, guilds, and mosques as one of the first shopping malls of the world. The Bazaar has been renovated many times because it has gone through several fires and earthquakes, the most comprehensive one being the 1894 renovation.  Today, the Grand Bazaar is still a very vibrant commercial center as well as the world's one of the most visited attractions with more than 100 million visitors annually.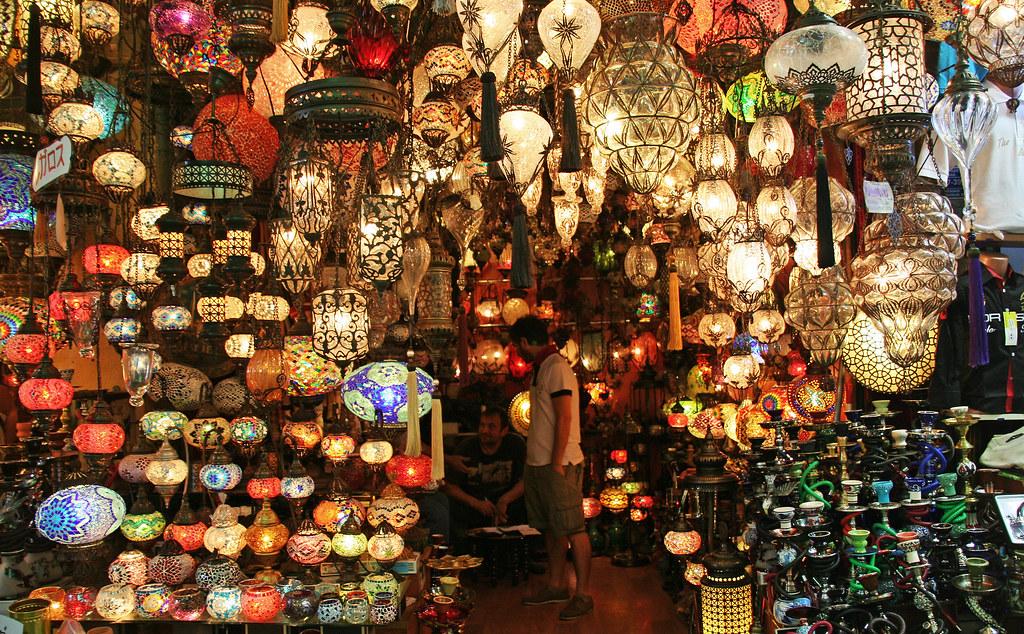 Location
The Grand Bazaar is located in the part of Old City Istanbul, in the heart of Beyazıt district. The bazaar is walking distance away from many of Istanbul's significant landmarks such as Hagia Sophia, renowned Blue Mosque, or Basilica Cistern.
Specialties to Look for in Grand Bazaar
The Grand Bazaar is huge with its numerous inner streets that are home to various craft vendors. You can get lost in the Grand Bazaar and wander around in its never-ending streets to experience age-old traditions and customs of Turkish tradesman as well as to find bargains from countless products around the bazaar.
The Grand Bazaar is famous for its jewelry vendors that sell top-tier gold, silver, and any valuable metal products as well as their real-like imitations. In the bazaar, you can also buy fascinating and rare textile products such as carpets, kilims, fabric, traditional or modern clothing, souvenirs, and many more. In addition to jewelry and textile, the Grand Bazaar is one of the best places in the world to buy quality leather products and traditional Turkish handicrafts. Don't forget to enjoy your Turkish coffee to relax after a day full of shopping and discovering in the centuries-old Grand Bazaar.